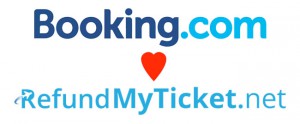 The company RefundMyTicket has been selected as well as 2 other innovative companies : Mapado (A Search Engine which helps you to find an activity, an event or a party matching to you) and Vertical (Company which developed the virtual visit application Mobilis 3D).
In addition to the consideration and the interest Booking.com offers to RefundMyTicket, this is also a huge awareness and an official support to the serious of our service we benefit from this selection.
RefundMyTicket is of course very proud and honored having been choosen by Booking.com staff this undisputed reference in travel market.
By the way, we will be at the Gaieté Lyrique of Paris on the 11th, 12th, 13th and 14th of june 2015 to meet you in order to answer your questions. Whether they are professional, private or simply curious, your questions are welcome and we will be glad to help you fly to your summer holidays location fully aware and peaceful !