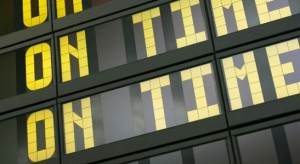 Each year, the report « OAG Punctuality League » draws up a ranking list of airlines and airport the most on-time in the world. Appeared in January 2015, the report shows European airlines are not so bad that we could imagine. Nontheless, it should be noted that for our French fellows, no French airport nor French airline are in the top 10.
The most punctual airports are …
For small airports, the highest-ranking one is the Bristol airport ( BRS), in England with 94,4% of timely flights in 2014. The second and third positions are occupied by the Bruxelles-Charleroi ( CRL ) airport and the Berlin-Schoenefeld ( SXF ) airport.
For large air hub, the most punctual is the Munich ( MUC ) airport with 89% of the on-time flight. Munich is followed by the Tokyo-Haneda ( HND) and the Seattle Sea-Tac ( SEA) airports. The world's busiest air destination, Atlanta, was ranked 12th on the large airports list with a score of 82.4%. Dubai, at 14th with 82.3%, was the only Middle Eastern airport to make any of the top twenties.
So anyone stuck reading this while waiting for a delayed or cancelled flight should take note: next time, fly via Bristol or Munich Airports.
The most punctual airlines are…
Among 900 airline companies in 2014, the most timely airline is the Latvian airline company Air Baltic with 94, 9% of flights on-time in 2014. Close behind, there are the Hawaiian Airlines ( 92,3%) and Austrian Airlines ( 90%). The rest of the top 10 includes: Iberia (89.7%), KLM (89.4%), Saudi Arabian Airlines (89.4%), SAS (89.1%), Japan Airlines (88.8%), Finnair (88.6) and Alaska Airlines (88.5%).
Norwegian Air Shuttle was named the most punctual low-cost carrier, with almost nine out of 10 flights sticking to a schedule. It was followed by Thai AirAsia and EasyJet. You can notice that China's larger carriers meanwhile are conspicuous by their absence.
If you are not lucky to be on one of those on-time flights, remember that by claiming with RefundMyTicket, we can help you receive up to 600€ in compensation. Claim now!
About RefundMyTicket
Only 5% of eligible passengers claim their rights. Others, often misinformed or discouraged by multiple of obstacles just give up. And so, it is more than 1.7 million of passengers that annually abandon € 500 million to the airline companies. Nearly €5 billion unclaimed since the introduction of the EU legislation n°261/2004.
At RefundMyTicket, we are determined to enforce the rights of passengers around the world. So, our mission is to help passengers get their money back for delayed, cancelled or overbooked flight. In that regard, we take the necessary steps to obtain the refunds due by the airline companies, in line with the regulatory framework currently in force